اﻟﻌﺴﻞ اﻟﺨﺎﻡ ﻭﺭﻣﻀﺎﻥ
18 2018 ﻣﺎﻳﻮ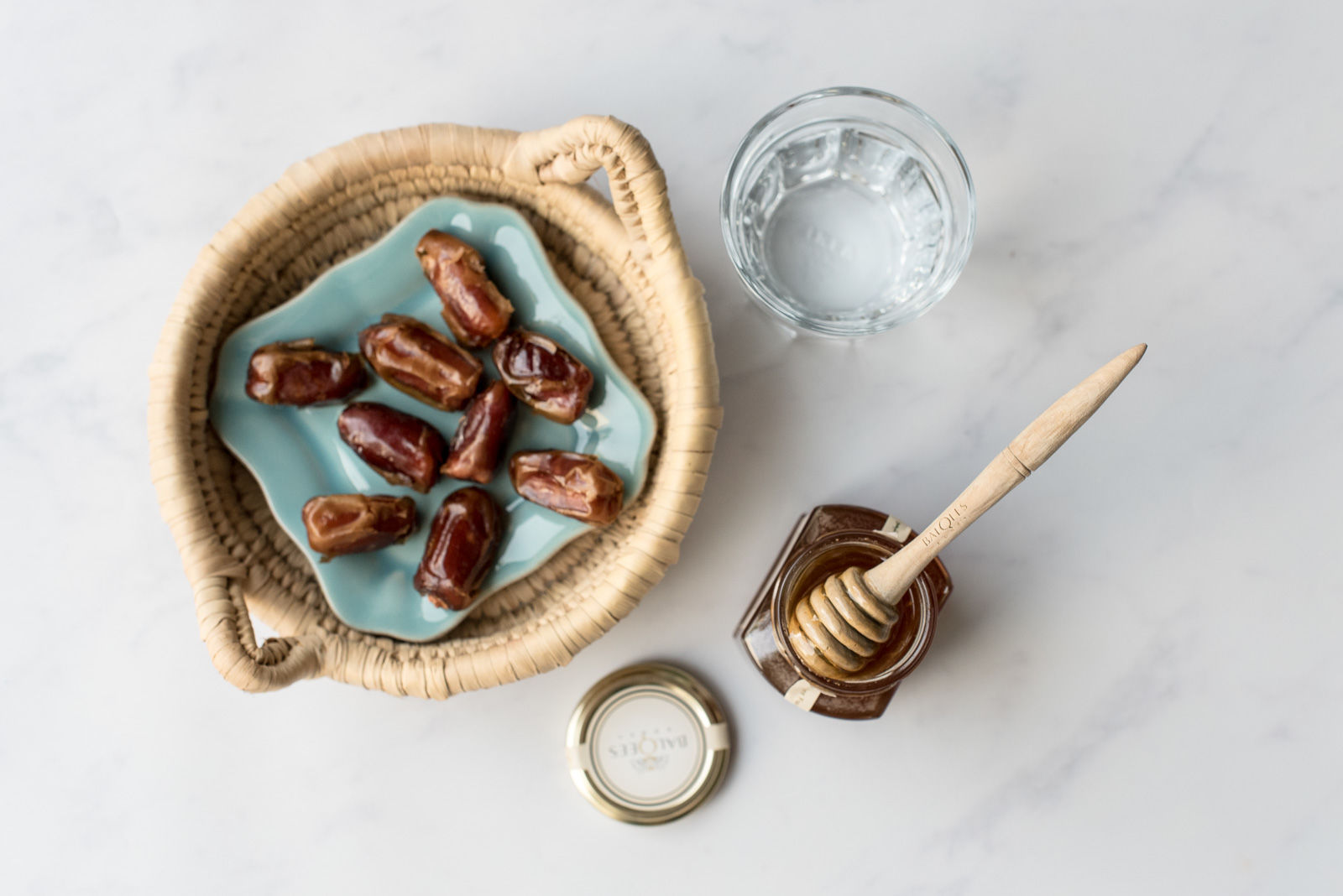 ﻳﻌﺘﺒﺮ ﺷﻬﺮ ﺭﻣﻀﺎﻥ اﻟﻤﺒﺎﺭﻙ ﺷﻬﺮاً ﻣﻤﻴﺰاً ﺑﺎﻟﻨﺴﺒﺔ ﻟﻠﻤﺴﻠﻤﻴﻦ، ﺣﻴﺚ ﻳﻌﺘﺒﺮﻭﻧﻪ اﻟﻮﻗﺖ اﻟﻤﻨﺎﺳﺐ ﻟﻠﺘﺄﻣﻞ ﻭﺯﻳﺎﺩﺓ اﻟﺼﻠﺔ ﺑﻴﻦ اﻟﻤﺮء ﻭﺭﺑﻪ ﻭﻣﺮاﻋﺎﺓ اﻟﻔﻘﺮاء ﻭاﻟﻤﺤﺘﺎﺟﻴﻦ.
ﻭﻟﻴﺲ ﻣﻦ اﻟﻤﺪﻫﺶ ﺃﻥ ﻧﺠﺪ ﻋﻼﻗﺔ ﻗﻮﻳﺔ ﺗﺮﺑﻂ ﺑﻴﻦ اﻟﻨﺤﻞ ﻭاﻟﻌﺴﻞ اﻟﺨﺎﻡ ﻭﺑﻴﻦ اﻟﺸﺮﻕ اﻷﻭﺳﻂ ﻭاﻟﺜﻘﺎﻓﺔ اﻟﻌﺮﺑﻴﺔ ﻣﻨﺬ ﻗﺮﻭﻥ. ﻓﻘﺪ ﺗﻢ ﺫﻛﺮ اﻟﻌﺴﻞ اﻟﺨﺎﻡ ﻓﻲ ﺳﻮﺭﺓ "اﻟﻨﺤﻞ"، ﺑﺎﻋﺘﺒﺎﺭﻩ ﺷﻔﺎء ﻟﻠﻨﺎﺱ ﻛﻤﺎ ﻳﻌﺘﺒﺮ ﻣﻦ ﻃﻌﺎﻡ ﺃﻫﻞ اﻟﺠﻨﺔ ﻓﻲ اﻷﺧﺮﺓ. ﻭﻗﺪ ﺣﺚ اﻟﻨﺒﻲ ﻣﺤﻤﺪ ﺻﻠﻰ اﻟﻠﻪ ﻋﻠﻴﻪ ﻭﺳﻠﻢ اﻟﻨﺎﺱ ﻋﻠﻰ اﺣﺘﺮاﻡ اﻟﻨﺤﻞ ﻭﺣﻤﺎﻳﺘﻪ ﻟﻔﻮاﺋﺪﻩ اﻟﻄﺒﻴﺔ ﻭاﻟﻐﺬاﺋﻴﺔ ﻭاﻟﺰﺭاﻋﻴﺔ ﻣﻦ ﺧﻼﻝ ﻣﺎ ﻭﻫﺒﻬﺎ اﻟﻠﻪ ﺇﻳﺎﻩ ﻭﻫﻮ اﻟﻌﺴﻞ.
اﺳﺘﺨﺪﻡ اﻟﻘﺪﻣﺎء اﻟﻤﺼﺮﻳﻮﻥ ﻭاﻟﺴﻮﻣﺮﻳﻮﻥ اﻟﻌﺴﻞ اﻟﺨﺎﻡ ﻛﻄﻌﺎﻡ ﻭﺩﻭاء. ﻭﻟﻄﺎﻟﻤﺎ ﻛﺎﻥ اﻟﻌﺴﻞ اﻟﺨﺎﻡ ﻣﻦ اﻟﺸﺮﻕ اﻷﻭﺳﻂ ﺫا ﻗﻴﻤﺔ ﻋﺎﻟﻴﺔ، ﻓﺎﻟﻨﺎﺱ ﻋﻠﻰ اﺗﻢ اﻻﺳﺘﻌﺪاﺩ ﻟﺪﻓﻊ ﻣﺒﺎﻟﻎ ﻛﺒﻴﺮﺓ ﻣﻦ ﺃﺟﻞ اﻟﺤﺼﻮﻝ ﻋﻠﻰ ﺟﺮﺓ ﻣﻦ اﻟﻌﺴﻞ اﻟﺨﺎﻡ ﻋﺎﻟﻲ اﻟﺠﻮﺩﺓ ﺑﺴﺒﺐ ﻣﺼﺪﺭﻩ اﻟﻤﻮﺛﻮﻕ ﻭﺧﺼﺎﺋﺼﻪ اﻟﺸﻔﺎﺋﻴﺔ ﻭﻣﺬاﻗﻪ اﻟﻐﻨﻲ. ﻭﻏﺎﻟﺒﺎً ﻣﺎ ﻳُﻘﺪﻡ اﻟﻌﺴﻞ اﻟﺨﺎﻡ ﻛﻬﺪﻳﺔ ﻟﻠﻌﺎﺋﻠﺔ ﻭاﻷﺻﺪﻗﺎء ﻋﻨﺪ ﺯﻳﺎﺭﺗﻬﻢ.
ﺗﻌﻨﻲ ﻛﻠﻤﺔ "ﺭﻣﻀﺎﻥ" ﻓﻲ اﻟﻠﻐﺔ اﻟﻌﺮﺑﻴﺔ اﻟﺤﺮ اﻟﺸﺪﻳﺪ ﺃﻭ اﻟﺠﺎﻑ. ﻛﻤﺎ ﻳُﺜﺒﺖ اﻟﻨﺎﺱ اﻧﻀﺒﺎﻃﻬﻢ اﻟﺬاﺗﻲ ﻋﻦ ﻃﺮﻳﻖ اﻟﺼﻴﺎﻡ ﺧﻼﻝ ﺳﺎﻋﺎﺕ اﻟﻨﻬﺎﺭ ﻟﻤﺪﺓ 30 ﻳﻮﻣﺎً ﻭﻟﻴﻠﺔ. ﻭﻣﻦ اﻟﻀﺮﻭﺭﻱ اﻟﺘﻤﺘﻊ ﺑﺼﺤﺔ ﺟﻴﺪﺓ ﻭاﻟﺘﺄﻛﺪ ﻣﻦ ﺗﻨﺎﻭﻝ اﻟﻄﻌﺎﻡ اﻟﺼﺤﻲ ﻭاﻟﻤﻮاﺩ اﻟﻤﻐﺬﻳﺔ اﻟﺴﻠﻴﻤﺔ ﺃﺛﻨﺎء اﻟﻤﺴﺎء، ﺃﻱ ﺧﻼﻝ ﻭﺟﺒﺘﻲ اﻹﻓﻄﺎﺭ ﻭاﻟﺴﺤﻮﺭ.
ﻭﻳُﻌﺪ ﺗﻨﺎﻭﻝ اﻟﻌﺴﻞ اﻟﺨﺎﻡ ﺃﺛﻨﺎء اﻟﺴﺤﻮﺭ ﻭﺳﻴﻠﺔ ﺟﻴﺪﺓ ﻟﻠﻘﺪﺭﺓ ﻋﻠﻰ اﻟﺼﻴﺎﻡ ﻃﻮاﻝ اﻟﻴﻮﻡ، ﺣﻴﺚ ﻳﺘﻢ اﻣﺘﺼﺎﺹ اﻟﺴﻜﺮﻳﺎﺕ اﻟﻄﺒﻴﻌﻴﺔ اﻟﻤﻮﺟﻮﺩﺓ ﻓﻲ اﻟﻌﺴﻞ ﺑﺸﻜﻞ ﺳﺮﻳﻊ ﻣﻤﺎ ﻳﻤﺪ اﻟﺠﺴﻢ ﺑﺎﻟﻄﺎﻗﺔ ﻋﻠﻰ اﻟﻔﻮﺭ، ﺑﻴﻨﻤﺎ ﻳﺘﻢ اﻣﺘﺼﺎﺹ اﻟﻔﺮﻛﺘﻮﺯ ﺑﺸﻜﻞ ﺃﺑﻄﺄ ﻟﻤﻮاﺻﻠﺔ ﺗﺰﻭﻳﺪ اﻟﺠﺴﻢ ﺑﺎﻟﻄﺎﻗﺔ. ﻭﺑﺎﻟﺘﺎﻟﻲ، ﻳﺤﺎﻓﻆ ﺫﻟﻚ ﻋﻠﻰ ﻣﺴﺘﻮﻳﺎﺕ اﻟﺴﻜﺮ ﻓﻲ اﻟﺪﻡ ﻣﻘﺎﺭﻧﺔ ﺑﺄﻧﻮاﻉ ﺃﺧﺮﻯ ﻣﻦ اﻟﺴﻜﺮ ﺃﻭ اﻟﻜﺮﺑﻮﻫﻴﺪﺭاﺕ اﻟﻐﻨﻴﺔ ﺑﺎﻟﺠﻠﻮﻛﻮﺯ. ﻭﺇﺿﺎﻓﺔ ﺇﻟﻰ ﺫﻟﻚ، ﻳﻌﺰﺯ اﻟﻌﺴﻞ اﻟﺨﺎﻡ ﻣﻦ ﻗﺪﺭﺓ اﻟﺠﻬﺎﺯ اﻟﻤﻨﺎﻋﻲ، ﻛﻤﺎ ﻳﻤﻜﻨﻪ ﻣﻦ اﻟﻘﻴﺎﻡ ﺑﺪﻭﺭ ﻣﺎﺩﺓ اﻟﺴﻴﺮﻭﺗﻮﻧﻴﻦ اﻟﺘﻲ ﺗﻌﺘﺒﺮ اﻟﻨﺎﻗﻞ اﻟﻌﺼﺒﻲ اﻟﻤﺴﺆﻭﻝ ﻋﻦ ﺗﺤﺴﻴﻦ اﻟﻤﺰاﺝ ﻭاﻟﺘﺸﺠﻴﻊ ﻋﻠﻰ اﻟﻨﻮﻡ.
ﻭﻳﺘﻤﺜﻞ اﻟﺤﻞ اﻟﺮﺋﻴﺴﻲ ﻓﻲ ﺗﻨﻈﻴﻢ اﻟﻮﺟﺒﺎﺕ ﻭاﻻﺳﺘﻌﺪاﺩ ﻟﺘﻨﺎﻭﻝ اﻟﺘﻤﺮ ﻋﻨﺪ اﻹﻓﻄﺎﺭ ﻟﻤﺎ ﻳﺘﻤﺘﻊ ﺑﻪ ﻣﻦ ﻗﻴﻤﺔ ﻏﺬاﺋﻴﺔ ﻋﺎﻟﻴﺔ ﻓﻀﻼً ﻋﻦ اﻋﺘﺒﺎﺭﻩ ﺟﺰءاً ﺃﺻﻴﻼً ﻣﻦ اﻟﺜﻘﺎﻓﺔ ﻭاﻟﺘﻘﺎﻟﻴﺪ اﻟﻌﺮﺑﻴﺔ اﻟﻤﺘﺒﻌﺔ ﺧﻼﻝ ﺷﻬﺮ ﺭﻣﻀﺎﻥ. ﻭﻳﺒﺪﺃ اﻟﻤﺴﻠﻤﻮﻥ ﺑﺘﻨﺎﻭﻝ اﻟﺘﻤﺮ ﻋﻨﺪ اﻹﻓﻄﺎﺭ ﻭﻗﺖ اﻟﻐﺮﻭﺏ ﻭﻗﺒﻞ ﺻﻼﺓ اﻟﻤﻐﺮﺏ ﻭﺑﻌﺪ اﻟﺼﻼﺓ ﻳﺠﻠﺴﻮﻥ ﻟﺘﻨﺎﻭﻝ اﻹﻓﻄﺎﺭ. ﻣﺮﺟﺒﺎً ﺑﺎﻟﺠﻤﻴﻊ ﻫﻨﺎ ﻟﻻﻧﻀﻤﺎﻡ ﺇﻟﻰ ﻭﺟﺒﺎﺕ اﻹﻓﻄﺎﺭ ﻭﻣﺸﺎﺭﻛﺘﻨﺎ اﻟﺘﺠﺎﺭﺏ ﻟﻠﺘﻌﺮﻑ ﻋﻠﻰ اﻷﻃﻌﻤﺔ ﻭاﻟﺜﻘﺎﻓﺎﺕ اﻟﻤﺨﺘﻠﻔﺔ.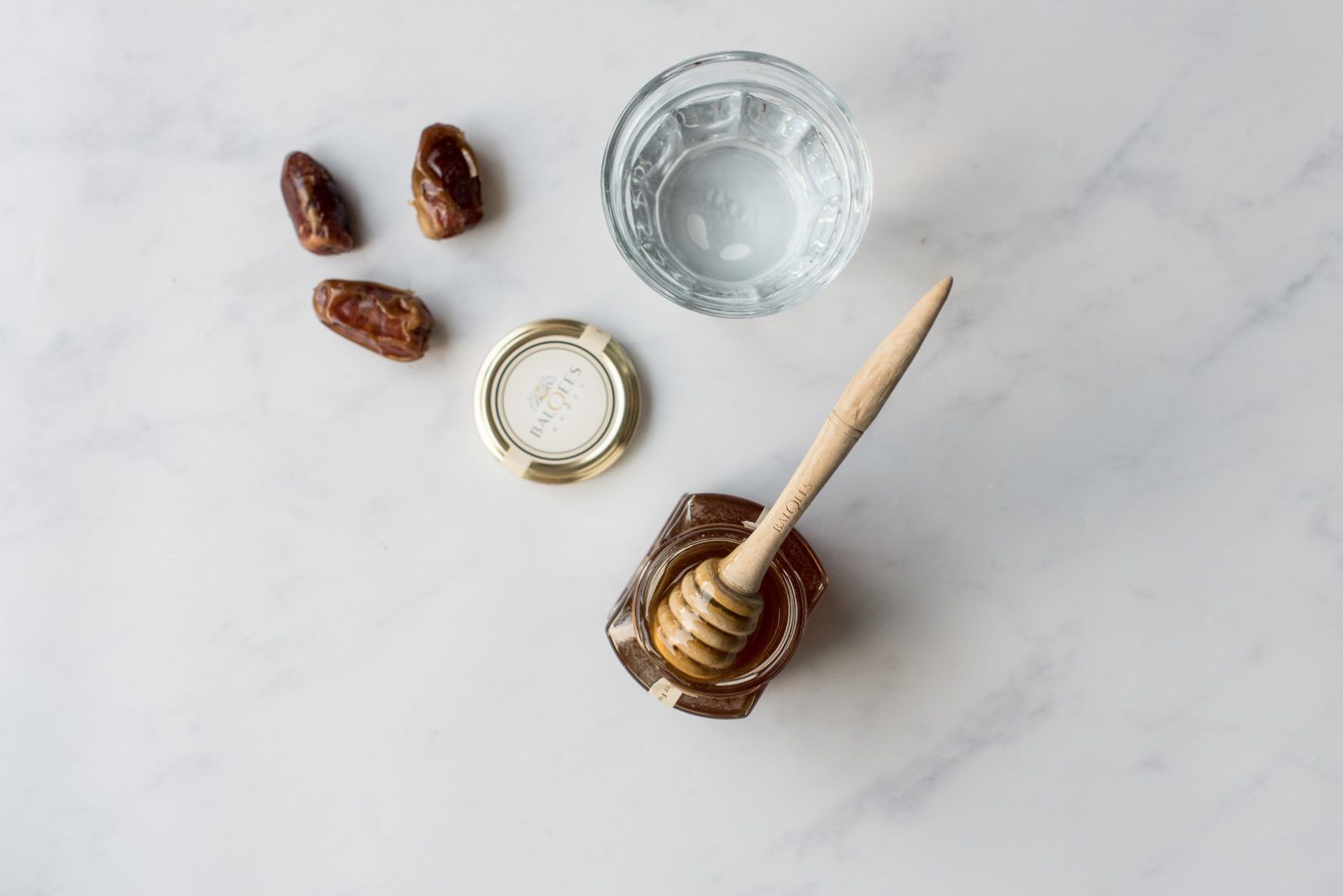 ﻣﻘﺘﺮﺣﺎﺕ ﻟﻠﺴﺤﻮﺭ ﻭاﻹﻓﻄﺎﺭ
ﺗﻤﺜﻞ ﻓﻜﺮﺓ اﻟﺤﻔﺎﻅ ﻋﻠﻰ ﺭﻃﻮﺑﺔ اﻟﺠﺴﻢ ﻭﺗﻌﻮﻳﻀﻪ ﻋﻦ ﻧﻘﺺ اﻟﻐﺬاء ﺧﻼﻝ ﺳﺎﻋﺎﺕ اﻟﻠﻴﻞ ﻭﺗﺠﻨﺐ اﻷﻃﻌﻤﺔ اﻟﻤﺎﻟﺤﺔ ﻭاﻟﻤﻘﻠﻴﺎﺕ ﺃﻫﻤﻴﺔ ﻛﺒﻴﺮﺓ ﻟﻠﺼﺎﺋﻢ. ﻛﻤﺎ ﺃﻥ ﺗﻨﺎﻭﻝ اﻟﻤﺎء اﻟﻤﻤﺰﻭﺝ ﺑﺎﻟﻌﺴﻞ اﻟﺨﺎﻡ ﻃﺮﻳﻘﺔ ﺟﻴﺪﺓ ﻟﻠﺤﻔﺎﻅ ﻋﻠﻰ ﻧﺴﺒﺔ اﻟﻤﺎء ﻓﻲ اﻟﺠﺴﻢ، ﻭﺇﻣﺪاﺩﻩ ﺑﺎﻟﻄﺎﻗﺔ، ﻭﻋﻼﺝ ﻣﺸﻜﻼﺕ اﻟﻬﻀﻢ ﻣﺜﻞ اﻟﺤﻤﻮﺿﺔ ﻭاﻻﻧﺘﻔﺎﺥ.
Camel milk has been a part of Bedouin culture for generations. It has powerful nutrients and lots of health benefits with far higher levels of iron, vitamin C and protein than cow's milk and with less fat. When possible I include camel milk at Suhoor along with raw honey, fruits and nuts to give me what I need.
These nice and simple recipes are packed with protein and fibre to sustain your body through a day of fasting.
ﺃﻓﻜﺎﺭ ﻟﻮﺻﻔﺎﺕ اﻟﻌﺴﻞ اﻟﺨﺎﻡ ﻓﻲ اﻟﺴﺤﻮﺭ
ﻃﺒﻖ اﻟﺠﺮاﻧﻮﻻ اﻟﻤﻠﻲء ﺑﺎﻟﻄﺎﻗﺔ
ﺿﻊ ﻛﻤﻴﺔ ﻣﻦ اﻟﺰﺑﺎﺩﻱ اﻟﻄﺒﻴﻌﻲ ﻓﻲ ﻃﺒﻖ ﻋﻤﻴﻖ ﺛﻢ ﺃﺿﻒ ﺇﻟﻴﻪ ﺑﻌﻀﺎً ﻣﻦ اﻟﺠﺮاﻧﻮﻻ ﻭاﻟﺘﻮﺕ اﻷﺯﺭﻕ اﻟﻄﺎﺯﺝ ﺃﻭ ﺃﻱ ﻓﺎﻛﻬﺔ ﺃﺧﺮﻯ ﻣﻦ اﺧﺘﻴﺎﺭﻙ. ﺛﻢ اﺳﻜﺐ اﻟﻘﻠﻴﻞ ﻣﻦ اﻟﻌﺴﻞ اﻟﺨﺎﻡ ﻓﻮﻗﻬﺎ ﻭﺑﻌﺪﻫﺎ ﺗﺼﺒﺢ ﺟﺎﻫﺰﺓ ﻟﻠﺘﻘﺪﻳﻢ.
اﺧﺘﻴﺎﺭ اﻟﻌﺼﻴﺮ اﻟﺤﻠﻮ
ﻗﻢ ﺑﻨﻘﻊ ﺣﻔﻨﺔ ﻣﻦ اﻟﺘﻤﺮ ﻓﻲ ﻛﻮﺏ ﻣﻦ اﻟﺤﻠﻴﺐ ﺣﺴﺐ اﺧﺘﻴﺎﺭﻙ ﻟﻤﺪﺓ ﻟﻴﻠﺔ ﺛﻢ ﺧﺬ ﻣﻠﻌﻘﺔ ﻛﺒﻴﺮﺓ ﻣﻦ اﻟﺰﺑﺎﺩﻱ اﻟﻄﺒﻴﻌﻲ، ﻭاﻟﺤﻠﻴﺐ ﺑﺎﻟﺘﻤﺮ، ﻭﻣﻠﻌﻘﺔ ﺻﻐﻴﺮﺓ ﻣﻦ اﻟﻌﺴﻞ اﻟﺨﺎﻡ، ﻭﻣﻜﻌﺒﺎﺕ اﻟﺜﻠﺞ (اﺧﺘﻴﺎﺭﻱ). ﺿﻊ اﻟﻤﻜﻮﻧﺎﺕ ﻓﻲ اﻟﺨﻼﻁ ﻭاﺧﻔﻘﻬﺎ ﻣﻌﺎً ﺣﺘﻰ ﺗﺼﺒﺢ ﺳﺎﺋﻠﺔ.
ﻣﺰﻳﺞ ﺣﻠﻴﺐ اﻟﻨﻮﻕ اﻟﻤﻠﻲء ﺑﺎﻟﻄﺎﻗﺔ
ﻗﻢ ﺑﻤﺰﺝ ﺣﻠﻴﺐ اﻟﻨﻮﻕ، ﻭاﻟﺰﺑﺎﺩﻱ اﻟﻄﺒﻴﻌﻲ، ﻣﻊ اﻟﺸﻮﻓﺎﻥ اﻟﻤﻨﻘﻮﻉ ﻓﻲ اﻟﻠﺒﻦ ﺃﻭ اﻟﻘﻠﻴﻞ ﻣﻦ اﻟﻌﺼﻴﺮ، ﻭاﻟﻤﻮﺯ اﻟﻤﺠﻤﺪ، ﻭﺯﺑﺪﺓ اﻟﻔﻮﻝ اﻟﺴﻮﺩاﻧﻲ اﻟﻄﺒﻴﻌﻴﺔ، ﻭﺑﺬﻭﺭ اﻟﺸﻴﺎ، ﻭاﻟﻌﺴﻞ اﻟﺨﺎﻡ. ﻳﻤﻜﻨﻚ ﺗﻐﻴﻴﺮ اﻟﻮﺻﻔﺔ ﻣﻦ ﺧﻼﻝ ﺗﺒﺪﻳﻞ ﺑﻌﺾ ﺣﺒﺎﺕ اﻟﺘﻤﺮ ﺑﺰﺑﺪﺓ اﻟﻔﻮﻝ اﻟﺴﻮﺩاﻧﻲ.
ﺯﺑﺪﺓ اﻟﻠﻮﺯ اﻟﺸﻬﻴﺔ ﻣﻊ اﻟﺘﻮﺳﺖ
ﻗﻢ ﺑﻮﺿﻊ ﺯﺑﺪﺓ اﻟﻠﻮﺯ اﻟﻄﺒﻴﻌﻴﺔ ﻓﻮﻕ ﺧﺒﺰ ﺑﻴﺘﺎ اﻟﺸﺎﻣﻲ اﻟﻤﺤﻤﺺ ﻣﻊ اﻟﺤﺒﺔ اﻟﺴﻮﺩاء، ﺛﻢ ﺿﻊ ﻓﻮﻗﻬﺎ ﺷﺮاﺋﺢ اﻟﻤﻮﺯ اﻟﻤﻘﻄﻌﺔ، ﻭاﻟﺴﻤﺴﻢ، ﻣﻊ ﺑﻌﺾ اﻟﻌﺴﻞ اﻟﺨﺎﻡ.
ﻳﺤﻈﻰ ﻭﻗﺖ اﻹﻓﻄﺎﺭ ﻓﻲ ﺭﻣﻀﺎﻥ ﺑﺄﻫﻤﻴﺔ ﺣﻴﺚ ﻳﺠﺘﻤﻊ اﻷﻫﻞ ﻭاﻷﺻﺪﻗﺎء اﺣﺘﻔﺎءً ﻭﻓﺮﺣﺎً ﺑﺼﻴﺎﻡ اﻟﻴﻮﻡ. ﻭﺗﻘﺪﻳﺮاً ﻟﻬﺬا، ﻳﺴﺎﺭﻉ اﻟﺠﻤﻴﻊ ﻓﻲ ﺇﻋﺪاﺩ ﻭﺟﺒﺔ ﺷﻬﻴﺔ ﻟﻹﻓﻄﺎﺭ. ﻭﺑﺠﺎﻧﺐ اﻟﺘﻤﺮ اﻟﺬﻱ ﻻ ﻏﻨﻰ ﻋﻨﻪ، ﻭاﻟﻌﺼﺎﺋﺮ ﻭاﻟﻔﻮاﻛﻪ اﻟﻤﺠﻔﻔﺔ ﻭاﻟﻤﻜﺴﺮاﺕ ﻭﺃﻃﺒﺎﻕ اﻷﺭﺯ ﻭاﻟﻠﺤﻢ، ﺗﻌﺪ اﻟﺤﻠﻮﻯ ﻣﻦ اﻷﻃﺒﺎﻕ اﻟﻤﻔﻀﻠﺔ ﻭﻗﺖ اﻹﻓﻄﺎﺭ. ﻭﻫﺎ ﻫﻲ ﺑﻌﺾ ﻭﺻﻔﺎﺗﻲ اﻟﻤﻔﻀﻠﺔ اﻟﺘﻲ ﻳﻤﻜﻦ ﺗﺠﺮﺑﺘﻬﺎ ﻓﻲ اﻟﻤﻨﺰﻝ.
ﺣﻠﻮﻯ اﻟﻌﺴﻞ اﻟﺨﺎﻡ ﻋﻠﻰ ﻣﺎﺋﺪﺓ اﻹﻓﻄﺎﺭ
ﻳﺤﻈﻰ ﻭﻗﺖ اﻹﻓﻄﺎﺭ ﻓﻲ ﺭﻣﻀﺎﻥ ﺑﺄﻫﻤﻴﺔ ﺣﻴﺚ ﻳﺠﺘﻤﻊ اﻷﻫﻞ ﻭاﻷﺻﺪﻗﺎء اﺣﺘﻔﺎءً ﻭﻓﺮﺣﺎً ﺑﺼﻴﺎﻡ اﻟﻴﻮﻡ. ﻭﺗﻘﺪﻳﺮاً ﻟﻬﺬا، ﻳﺴﺎﺭﻉ اﻟﺠﻤﻴﻊ ﻓﻲ ﺇﻋﺪاﺩ ﻭﺟﺒﺔ ﺷﻬﻴﺔ ﻟﻹﻓﻄﺎﺭ. ﻭﺑﺠﺎﻧﺐ اﻟﺘﻤﺮ اﻟﺬﻱ ﻻ ﻏﻨﻰ ﻋﻨﻪ، ﻭاﻟﻌﺼﺎﺋﺮ ﻭاﻟﻔﻮاﻛﻪ اﻟﻤﺠﻔﻔﺔ ﻭاﻟﻤﻜﺴﺮاﺕ ﻭﺃﻃﺒﺎﻕ اﻷﺭﺯ ﻭاﻟﻠﺤﻢ، ﺗﻌﺪ اﻟﺤﻠﻮﻯ ﻣﻦ اﻷﻃﺒﺎﻕ اﻟﻤﻔﻀﻠﺔ ﻭﻗﺖ اﻹﻓﻄﺎﺭ. ﻭﻫﺎ ﻫﻲ ﺑﻌﺾ ﻭﺻﻔﺎﺗﻲ اﻟﻤﻔﻀﻠﺔ اﻟﺘﻲ ﻳﻤﻜﻦ ﺗﺠﺮﺑﺘﻬﺎ ﻓﻲ اﻟﻤﻨﺰﻝ.
ﺑﻘﻼﻭﺓ اﻟﻌﺴﻞ اﻟﺨﺎﻡ ﻭاﻟﻔﺴﺘﻖ
ﺃﺛﻨﺎء ﺭﺣﻠﺘﻲ ﻓﻲ ﺟﺒﺎﻝ ﺟﻨﻮﺏ اﻟﺒﺮﺗﻐﺎﻝ، ﻣﺮﺭﺕ ﺑﻤﻄﻌﻢ ﻧﺒﺎﺗﻲ ﺗﺪﻳﺮﻩ ﺳﻴﺪﺓ ﺑﺮﺗﻐﺎﻟﻴﺔ ﺗُﺪﻋﻰ ﺇﻳﺰاﺑﻴﻞ ﻭﺗﻘﺪﻡ ﻓﻴﻪ ﺑﻘﻼﻭﺓ ﺭاﺋﻌﺔ. ﺗﻌﻮﺩ ﺃﺻﻮﻝ اﻟﺒﻘﻼﻭﺓ ﺇﻟﻰ اﻹﻣﺒﺮاﻃﻮﺭﻳﺔ اﻟﻌﺜﻤﺎﻧﻴﺔ ﻭﻫﻲ ﺑﺎﻟﻄﺒﻊ ﻣﻦ اﻟﺤﻠﻮﻯ اﻟﻤﺸﻬﻮﺭﺓ ﻓﻲ ﻣﻨﻄﻘﺔ اﻟﺸﺮﻕ اﻷﻭﺳﻂ ﻭاﻟﻤﻔﻀﻠﺔ ﻋﻠﻰ ﻣﻮاﺋﺪ اﻹﻓﻄﺎﺭ. ﻭﻟﻢ ﺗﻤﺎﻧﻊ اﻟﺴﻴﺪﺓ ﺇﻳﺰاﺑﻴﻞ ﻣﺸﺎﺭﻛﺘﻨﺎ ﻫﺬﻩ اﻟﻮﺻﻔﺔ.
ﺧﺬ ﺣﻮاﻟﻲ 10 ﻗﻄﻊ ﻣﻦ ﻋﺠﻴﻨﺔ اﻟﻔﻴﻠﻮ اﻟﻤﻐﻄﺎﺓ ﺑﻄﺒﻘﺔ ﻣﻦ اﻟﻌﺴﻞ اﻟﺨﺎﻡ ﻭاﻟﻤﺤﺸﻮﺓ ﺑﺎﻟﺠﻮﺯ ﺃﻭ اﻟﻠﻮﺯ ﺃﻭ اﻟﻔﺴﺘﻖ. ﻗﻢ ﺑﺘﻘﻄﻴﻌﻬﺎ ﺛﻢ ﺿﻌﻬﺎ ﻓﻲ اﻟﻔﺮﻥ ﻟﻤﺪﺓ 15 ﺩﻗﻴﻘﺔ. ﺛﻢ ﺃﺿﻒ ﻋﻠﻴﻬﺎ اﻟﻌﺴﻞ اﻟﺪاﻓﺊ ﻭاﺗﺮﻛﻬﺎ ﺣﺘﻰ ﺗﺘﺸﺮﺑﻪ. ﺇﻧﻬﺎ ﺣﻘﺎً ﺣﻠﻮﻯ ﺳﻬﻠﺔ ﻭﺷﻬﻴﺔ ﻟﺘﻨﺎﻭﻟﻬﺎ ﻣﻊ اﻵﺧﺮﻳﻦ ﺃﻭ ﺗﻘﺪﻳﻤﻬﺎ ﻛﻬﺪﻳﺔ ﻋﻠﻰ ﻣﺎﺋﺪﺓ اﻹﻓﻄﺎﺭ.
ﻳﺘﻤﻨﻲ ﻟﻜﻢ ﻓﺮﻳﻖ ﺑﻠﻘﻴﺲ ﺷﻬﺮاً ﻣﺒﺎﺭﻛﺎً. ﻭﺗﺮﺳﻴﺨﺎً ﻟﻌﻈﻤﺔ اﻟﻨﺤﻞ ﻭﻋﺴﻞ اﻟﻨﺤﻞ، ﺫﻛﺮﻫﺎ اﻟﻠﻪ ﺳﺒﺤﺎﻧﻪ ﻭﺗﻌﺎﻟﻰ ﻓﻲ ﻛﺘﺎﺑﻪ اﻟﻌﺰﻳﺰ ﻓﻲ اﻵﻳﺘﻴﻦ 68 ﻭ 69 ﻣﻦ ﺳﻮﺭﺓ اﻟﻨﺤﻞ ﺗﺄﻛﻴﺪاً ﻋﻠﻰ اﻟﻘﻮﺓ اﻟﻌﻼﺟﻴﺔ ﻭاﻟﺸﻔﺎﺋﻴﺔ ﻟﻠﻌﺴﻞ اﻟﺨﺎﻡ:
" ِﻭَﺃَﻭْﺣَﻰ ﺭَﺑُّﻚَ ﺇﻟَﻰ اﻟﻨَّﺤْﻞِ ﺃَﻥِ اﺗَّﺨِﺬِﻱ ﻣِﻦَ اﻟﺠِﺒَﺎﻝ
ِّﺑُﻴُﻮﺗًﺎ ﻭَﻣِﻦَ اﻟﺸَّﺠَﺮِ ﻭَﻣِﻤَّﺎ ﻳَﻌْﺮِﺷُﻮﻥَ* ﺛُﻢَّ ﻛُﻠِﻲ ﻣِﻦ ﻛُﻞ
اﻟﺜَّﻤَﺮَاﺕِ ﻓَﺎﺳْﻠُﻜِﻲ ﺳُﺒُﻞَ ﺭَﺑِّﻚِ ﺫُﻟُﻻً ﻳَﺨْﺮُﺝُ ﻣِﻦ ﺑُﻄُﻮﻧِﻬَﺎ
ﺷَﺮَاﺏٌ ﻣُّﺨْﺘَﻠِﻒٌ ﺃَﻟْﻮَاﻧُﻪُ ﻓِﻴﻪِ ﺷِﻔَﺎءٌ ﻟِّﻠﻨَّﺎﺱِ ﺇﻥَّ ﻓِﻲ
َﺫَﻟِﻚَ ﻵﻳَﺔً ﻟِّﻘَﻮْﻡٍ ﻳَﺘَﻔَﻜَّﺮُﻭﻥ"
[69-68 ﺳﻮﺭﺓ اﻟﻨﺤﻞ، اﻵﻳﺎﺕ]
Riath